Skills
Jump to navigation
Jump to search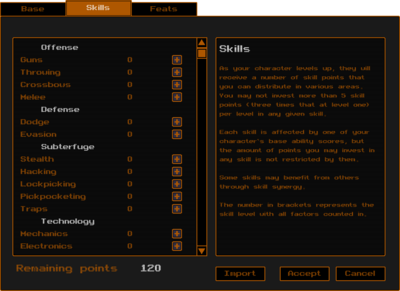 Skills in Underrail represent your character's competence and knowledge in specific topics.
Each skill has two values on the Character Sheet S menu: a base value and an effective value. Effective value is displayed in parentheses after the base value and is visible only if it differs from base value. The base value is the number of skill points invested in that skill. The effective value is the actual skill value with all skill modifiers[1] counted in. (Eg. bonuses from related base abilities, skill synergies, and certain items.) The base values of skills are used in requirements for learning new feats and abilities, while effective values are used for everything else.
[1] Note: Dodge and Evasion are not only skills, but also defensive stats. Some effects apply directly to the defensive stats instead of the skills. Combat Stats C menu shows their values as used in combat calculations.
You gain 40 skill points every level, except at character creation where you have 120 points to spend. You cannot increase any given skill beyond its maximum for your current level, which is 10 + 5 per level. This means you can max 8 out of the 22 available skills each level, or split your skillpoints into more skills.
Related base abilities

Each skill is affected by one of your character's Base Ability Scores, but the amount of points you may invest in any skill is not restricted by them. Every point in base ability above 4 increases the effective value of dependent skills by

8.5%

, while every point below 4 decreases it by

10%

.
Skill synergies

Some skills also benefit from others through skill synergy, increasing their effective skill value by a percentage of the synergistic skill. Synergies cannot boost skills beyond their maximum base value for your current level.
Offense
Offense skills, along with psi skills, define your character's primary means of attacking.
Guns
Main article: Guns

Guns skill includes all kinds of firearms and chemical/energy weapons as well. Crossbows have their own skill.

| | |
| --- | --- |
| Related Base Ability | Skill Synergies |
| | |
Throwing
Main article: Throwing

Throwing is a support skill, rather than a primary weapon skill you can rely on all the time. Also increases damage with throwing knives.

| | |
| --- | --- |
| Related Base Ability | Skill Synergies |
| | |
Crossbows
Main article: Crossbows

Crossbows can fire various special bolts and their relatively low impact speed (compared to firearms and energy weapons) helps pierce energy shields.

| | |
| --- | --- |
| Related Base Ability | Skill Synergies |
| | |
Melee
Main article: Melee

Melee includes all sorts of close combat weapons — unarmed, fist weapons, knives and sledgehammers. Underrail: Expedition adds spears and swords.

| | |
| --- | --- |
| Related Base Ability | Skill Synergies |
| | |
Defense
Defense skills are a part of your character's defensive abilities. They let you completely avoid some attacks. They can reduce chance to hit by up to 60% (if effective evasion/dodge skill is twice the attacker's effective attack skill)[1]
They are related to agility.
Dodge
Main article: Dodge

Dodge skill primarily helps you avoid all sorts of melee attacks.

| | |
| --- | --- |
| Related Base Ability | Skill Synergies |
| | |
Evasion
Main article: Evasion

Evasion skill helps you avoid most ranged attacks, except psionics. It also reduces damage from AoE attacks such as grenade/mine explosions and pyrokinesis.

| | |
| --- | --- |
| Related Base Ability | Skill Synergies |
| | |
Subterfuge
Subterfuge skills are skillset of a thief and a spy. They allow you break & enter into various secured areas and steal from NPCs. Stealth also plays a large part in combat with feats such as Ambush and Cut-Throat.
Stealth
Main article: Stealth

Stealth skill allows you to successfully stay hidden from others in Stealth Mode.

| | |
| --- | --- |
| Related Base Ability | Skill Synergies |
| | |
Hacking
Main article: Hacking

Hacking skill is used to hack into computer terminals and open electronic locks with haxxors.
Lockpicking
Main article: Lockpicking

Lockpicking skill is used to open mechanical locks with lockpicks and ventilation shafts with Omni-Tool.

| | |
| --- | --- |
| Related Base Ability | Skill Synergies |
| | |
Pickpocketing
Main article: Pickpocketing

Pickpocketing skill is used for the Pickpocket ability, stealing directly from someone's pockets. Stealth, lockpicking and hacking can be used to steal from (locked) containers.

| | |
| --- | --- |
| Related Base Ability | Skill Synergies |
| | |
Traps
Main article: Traps

Traps skill allows you to both use traps as a weapon and spot/disarm enemy traps. See Traps for details.
Technology
Technology skills are the crafting skills of Underrail. They also have varying uses outside of item crafting.
All of them are related to intelligence.
Mechanics
Main article: Mechanics

Mechanics skill represents your ability to understand and repair mechanical devices. Used in most crafting recipes that use metal and mechanical components, including metal armors and firearms.

| | |
| --- | --- |
| Related Base Ability | Skill Synergies |
| | |
Electronics
Main article: Electronics

Electronics skill represents your ability to understand and repair electronic devices. Used in crafting recipes that use electronic components.

| | |
| --- | --- |
| Related Base Ability | Skill Synergies |
| | |
Chemistry
Main article: Chemistry

Chemistry skill is used in crafting recipes related to chemistry, such as chemical weapons and explosives.

| | |
| --- | --- |
| Related Base Ability | Skill Synergies |
| | |
Biology
Main article: Biology

Biology skill is for crafting medicine items and processing plants or animal remains into useful chemicals.

| | |
| --- | --- |
| Related Base Ability | Skill Synergies |
| | |
Tailoring
Main article: Tailoring

Tailoring is used to craft various lightweight armor items from leather and cloth.

| | |
| --- | --- |
| Related Base Ability | Skill Synergies |
| | |
Psi
Various psionic powers your character can learn during the game.
All of them are related to will.
Thought Control
Main article: Thought Control

Thought Control psi abilities deal with crowd control and other ways to affect the minds of organic targets.
Psychokinesis
Main article: Psychokinesis

Psychokinesis psi abilities deal with melee enhancement, electricity damage and other electromagnetic manipulation.
Metathermics
Main article: Metathermics

Metathermics psi abilities consist various ways to directly deal fire and cold damage to your enemies.
Temporal Manipulation
Social
Social skills affect your dialogue options and the quality of deals you can make with the various traders and other NPCs found in Underrail.
Persuasion and intimidation are related to will, which also unlocks some dialogue options. Mercantile is related to intelligence.
Persuasion
Main article: Persuasion

Persuasion is often used to resolve difficult situations with peaceful dialogue.

| | |
| --- | --- |
| Related Base Ability | Skill Synergies |
| | |
Intimidation
Mercantile
Main article: Mercantile

Mercantile is not only good for trading with merchants, but also for negotiating better quest rewards. See Merchants for more information.

| | |
| --- | --- |
| Related Base Ability | Skill Synergies |
| | |