Merchants
Jump to navigation
Jump to search
For an alphabetical list of merchant NPCs, see Category:Merchants.
For a list of items by trading category, see Category:Trade categories.
Traders, merchants or vendors are NPCs who trade items with the player.
Trading interface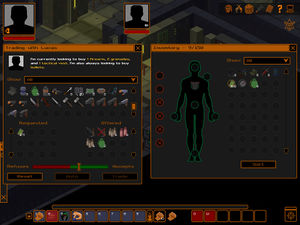 You can't see the exact value of your trade, but the

Refuses/Accepts

bar should give you a rough idea
Alt-click or double-click items to quickly send them to trade
Shift-click items to split stacks

Reset

button sends requested and offered items back

Auto

button uses available currency items to equalize the trade

Trade

button completes the trade
Offered items overlaid with

X

won't be accepted by the trader
Merchant properties
Prices
The price modifier for items you purchase usually starts at 200% and can be lowered with your mercantile skill. Some traders may also offer you better deals than others.
Price is reduced by 1% (from the starting 200%) per point of mercantile skill. There's a cap on how much item prices can be reduced but there's no information available about this cap. It could be a soft cap that reduces the value of each point invested in mercantile or it could be a hard cap that prevents items from being sold for less than 115% of their base cost. (This information was deduced from screenshots posted here.)
Currency is always valued at its base value, without any price modifiers. Traders usually only accept local currencies in trade.
Restocking
Most merchant stores are restocked every 90 minutes of ingame time. But you can use "+" button to speed it up! On its max value you get about x3 reduction in real waiting time for ALL the ingame timers. That effectively turns an interval for merchants' restock to 30 minutes.
Items bought
Traders usually buy only certain types of items, and only in limited amounts. Merchants also have limited amount of money available. These limits reset when their inventory is restocked.
Salesman feat increases the amount of items you can sell and Major Supplier feat increases the amount of money that merchants are willing to spend buying from you.
Merchandise shipments
All merchants start with an initial merchandise shipment, but may acquire new shipments (or lose access to some shipments) during the game to change their store inventory. New shipments with higher level items or entirely new items will be available in some stores based on game progression (e.g. TNT Charges in SGS armory after the railroad blockade is cleared) and special merchandise shipments are available to players who invest in mercantile skill.
Special merchandise
As of version 1.0.2.2, certain merchants have special merchandise shipments available to characters with mercantile skill. See Category: Special merchants for a list of these merchants.
Special merchandise includes more and better quality components and equipment. Special merchandise comes in multiple tiers with increasing skill requirements each. In future versions, special merchandise may even include unique items that cannot be gained otherwise.
Merchant list
Lists of merchants in the base game and Expedition expansion.
Notes
[1] The pharmacist handmaiden in Lemurian Health Center's pharmacy has a random chance of appearing.